École Père Kenneth Kearns Catholic Elementary School
Phone: 780-467-7135
Fax: 780-467-1495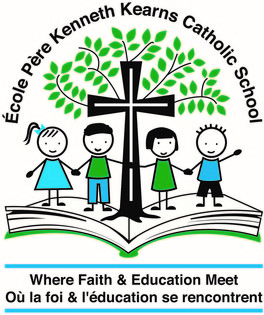 Motto
Where Faith and Education Meet.
Mission
With Christ as our ever-present teacher, in an environment rich in French language and culture, we ensure every child succeeds: personally, spiritually, academically.
Philosophy
Parents, staff and students work collaboratively, with Christ as our guide, to ensure the success of each student. Our efforts are focused on the individual needs of each learner. We foster language learning in a faith-filled environment where students can lead a spiritually rich life. Students are encouraged to live out their faith through their words, actions, and interactions.
Programs & Services
French Immersion from Pre-Kindergarten through to Grade 4.
Administration
Directrice-Adjointe/Assistant Principal: Mme Jacqueline Dargis-Boucher
Facilitatrice/Facilitator: Mme Alicia Rudkowsky